Hello everyone,
TCG ONE is a community-supported project where we accept contributions in different forms. This post aims to enlighten the modules of the project and how to help out.
Contribution pipelines
Contribute to tcgone-engine-contrib repository, which holds card implementations. By doing so, you may help releasing missing expansions and fix the bugs on existing cards. You'll need some programming skills.
We always need high quality card scans and someone to manage them, for either new sets or to improving old sets. See Scans Server topic for more information and reach me out if you want to help.
Contribute to carddb, the new card database module. It aims to bring card information to the front facing web site and integrate with the simulator in the future. This project also aims to be a general purpose Pokemon TCG Card Database. Currently we're defining cards in YAML format. The format is still evolving and we need you to improve or update the database and its format. These cards are served through https://tcgone.net/cards.
Current Tasks and TODO Lists
Tasks are managed through a Trello Board.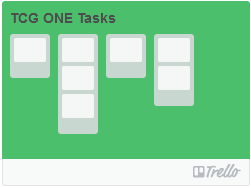 Systems Overview
Modules v1: Current state of modules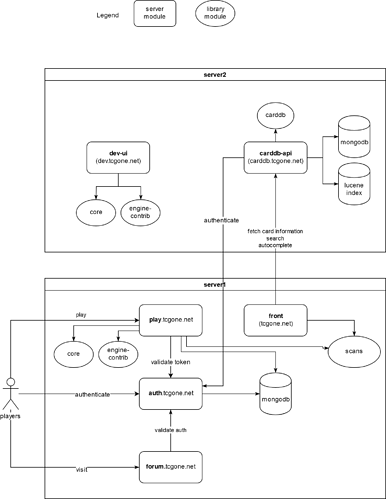 Modules v2: Shows next gen state of modules, it basically involves implementing an external deck service and the extended usage of carddb-api for all matters. The changes from v1 are shown in red.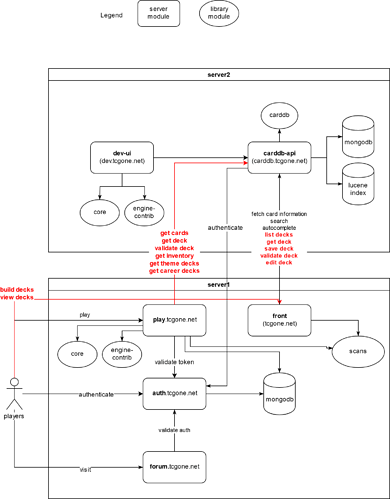 There will be more versions in the future. v3 will basically improve front with game server functionalities.
Please reply if you're interested in building them! I'll give you access to those repositories.
Best,
admin