TCG ONE is a community-supported project where we accept contributions in different forms. This post aims to enlighten the modules of the project and how to help out.
Contribution Methods
For Programmers (Software Developers / Engineers)
We are always on the lookout of new developers for TCG ONE to help implementing new sets and cards. High proficiency in Java programming language and its ecosystem is required.
You are encouraged to contribute to "contrib" repo which holds public card implementations. Please check out the README and WIKI pages of that repository first. You may implement missing expansions and fix the bugs on existing cards. Check out below section on testing and bug reports.
Learning how to use TCG ONE engine is a steep but rewarding process. Once you merge several PRs, you'll get the gist of how TCG ONE engine works, and if your contributions are of high-quality, you will get an invite become a member of TCG ONE Developer Team with full rights.
Preferably, we'd also appreciate software engineering experience with technologies like Docker, OAuth2, GRPC, Protobuf, Spring (web, boot, data), Vaadin, Play Framework to further contribute to the future system design & platformization of the project.
For Non-Programmers;
Even if you don't have programming experience you may still contribute to TCG ONE in certain ways;
Task Management
Development tasks are managed on TCG ONE Trello Board.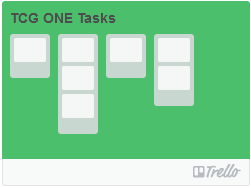 Please leave a message in #development channel on Discord if you're stuck with anything or have some questions.