Over on the Discord, our Moderator @JappaWakka, has created some of these truly wonderful and pure terror inducing cards that ask the question. "What if Pokemon existed in real life". This is where the concept of using a Magic the Gathering trading card game art style came about. Before all this card art would get lost in the discord chats for all time, I thought I would archive them, so they don't become lost forever. These cards were created as a side project for @ZF_Goku 's Pokemod series.
I thought I would archive each of the cards he created, so others can have a look and see what you guys think about them. (each of these cards are in a chronological order. (the order of being made) with updated versions of the cards already made overwriting the existing version)
There will be two Expansions to this Pokémod - Imperium and Sequentia. Imperium includes all 151 Generation 1 Pokemon and Sequentia includes all 101 Generation 2 Pokemon. Right now he's focusing on the gen 1 cards. All of the cards will have duplicate stats of the existing Pokémod cards created by @ZF_Goku
There will also be secret rare cards included in both expansions and all of these cards will be included in the Pokémod Format.
Credits are due to the original artists of these card images: Josua Dunlop, RJ Palmer, Marika Khammanivong, Ross Radke, Gavin Mackey, Sam Peterson, Gangl Simon, Alysia Prosser, Jasper Speelman.
These first few cards use the original artwork for the cards, before being transitioned into the realistic looking Pokemon cards out of a nightmare!
The Original Card back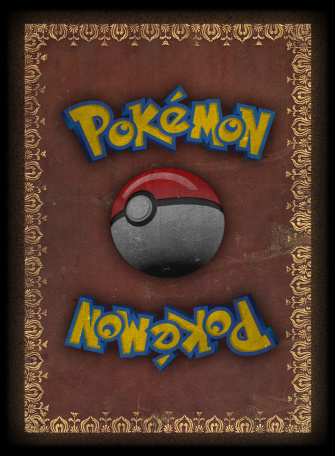 The Imperium expansion card back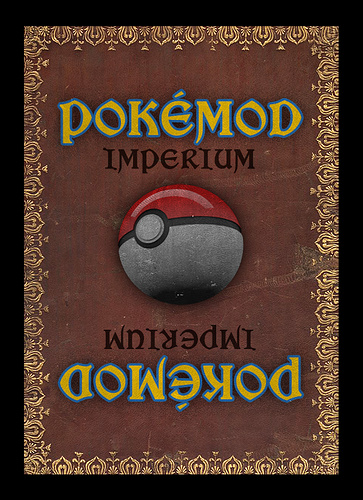 The Sequencia expansion card back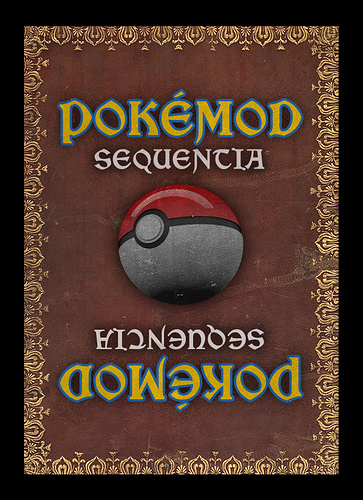 Bulbasaur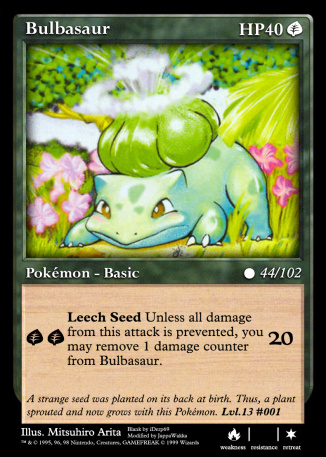 Chansey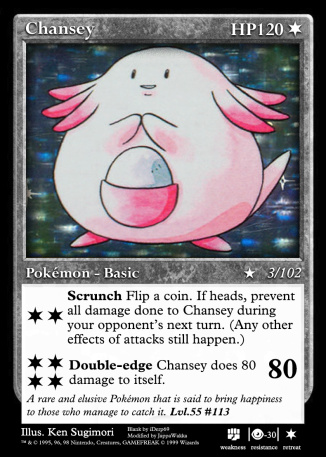 Alakazam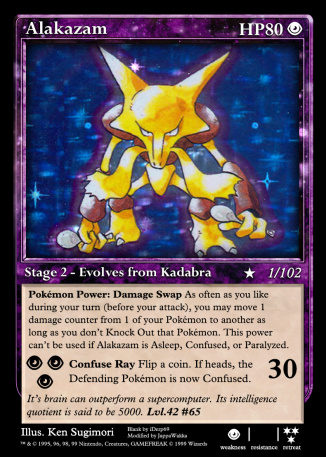 Blastoise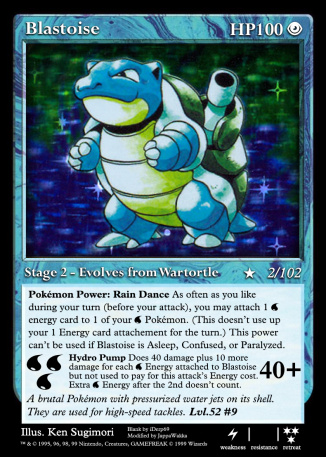 From Here, this is where the realistic art style begins. You wouldn't want to run into these things in a dark alley that's for sure:
The official Pokemon the Gathering card back

Blastoise

Bulbasaur

Chansey

Ivysaur

Charizard

Venusaur

Hitmonchan

Magneton

Clefable

Gyarados

Clefairy

Machamp

Mew

Professor Oak

Nidoking

You can find all Jappa's work and updated work here, where he keeps all his card images.
He says he will update each card as he makes changes to each one. It's looking very nice indeed. https://mega.nz/#F!BQxhjKza!1ViktxNmcvl0WTkotT2pVg
Edit: Removed Magnemite, Alakazam and Mewtwo at the request of JappaWakka, so he can make changes and improvements to the cards.