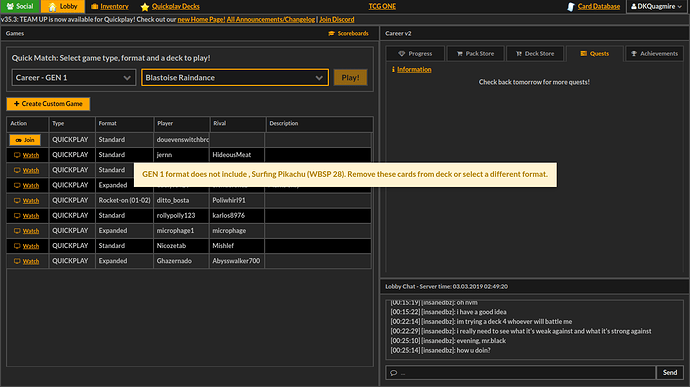 As you can see from the picture above, when i try to use a gen 1 career deck with Surfing Pikachu in it, i get this message saying that the gen 1 format does not include Surfing Pikachu wbsp 28.
i've been trying to find out the original source which states which promo cards are legal in the gen 1 format, and i'm coming up empty handed here.
Surfing Pikachu was a card that players could use in the gameboy colour version of the pokemon tcg, and that game only had the base set, jungle and fossil expansions, with a handful of promos and gameboy exclusive cards. i would of thought for sure that promo cards up to number 28 where legal for play in the gen 1 format.
WBSP 29 is Marill, which goes into gen 2, so obviously that's not part of gen 1. it just seems silly that gen 1 doesn't include surfing Pikachu any more, as i've used the card in my Blastoise deck hundreds of times in games in the past.